Classical Guitar Lessons
A seasoned concert performer with over 25 years of teaching experience, focused only on the classical guitar, Mr. Tang accepts student from beginners to diploma and University music majors.
Distance learning via GoogleMeet / Zoom is available.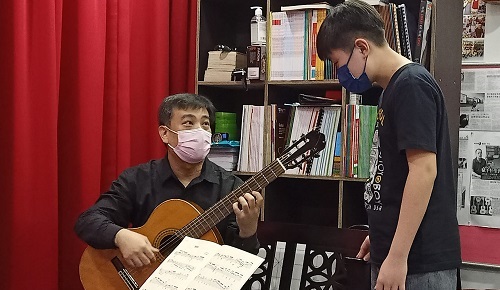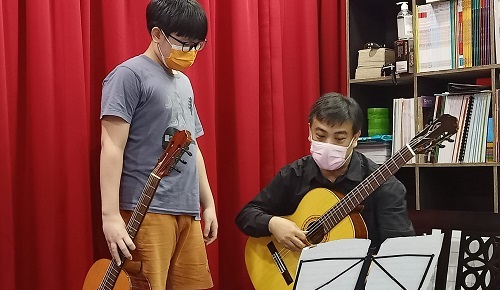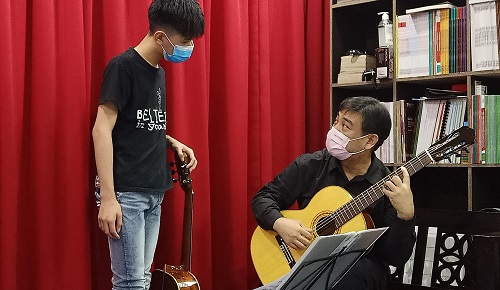 showing some tips and tricks to some young talented students
If you are:
Preparing for the diploma exams: i.e ABRSM / Trinity / LCM, etc.
A pre-college student who want to improve on their techniques
A college music major with classical guitar as principal study
A guitar enthusiast who wish to solve or improve on some difficult sections of the music you love.


What we will work on:
Technique Improvement Workout (if needed)
Proper Practice Planning and Habits
Repertoire and Etudes Buidling with Problem Solving Discussions
Musicianship, Style, Presentation
Here's some examples of my teaching materials
Fingering idea: J.F. Daube: Menuet, Trinity Guitar Exam 2020: Grade 4. (Lower-Intermediate)
Fingering idea: M. Carcassi Op. 60 No. 7: Alternative finger to practise i,m finger with speed (Advanced when speed up)
Dotted Rhythm Practice: Bach, Gigue, BWV 1009 (Advanced)
Alter the rhythm to dotted (short-long / long-short), the shift of weight or force will create imbalance of muscle work of the alternating fingers, thus forcing our fingers muscle to learn to control better.
Take lessons from a professional performer, please get in touch.


Get in touch
Instagram / FB: ys.tang.music






or drop me an email:
music.ystang@gmail.com